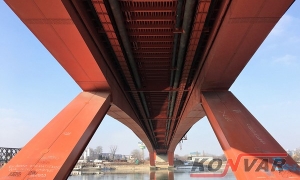 In the premises of the Ministry of Mining and Energy, on September 19, 2017, a contract was signed for the reconstruction of the main gas line through the Gazela bridge. The contract was signed by the director of Belgrade Power Plants, Mr. Goran Aleksić, and the director of the company Konvar doo, Mr. Nenad Pavlović. The project of reconstruction of the mainstream of the Gazela bridge is financed from the loan from the German Development Bank (KfW).
The main heating line under the Gazela Bridge, about 1km long, will be completely reconstructed until the beginning of the heating season 2018/2019. This project should contribute to increasing the capacity and expansion of the heating district of Toplana "Novi Beograd". The complete reconstruction of this main heating line implies the installation of pre-insulated pipes of larger diameter DN750 instead of DN600, with significantly better thermal insulation.
By reconstructing and expanding the capacity of this mainstream, preconditions will be created to supply facilities located on the right bank of the Sava from the Heating Plant "Novi Beograd", and it will also be possible to heat up several other heating areas, such as the current project of revitalization, reconstruction and construction of the area around the bridge and the Railway Station known as Belgrade on the water, then Prokop and Senjak (where the local boiler rooms on the oil plant will also be shut down), says the director of Konvar Nenad Pavlovic.